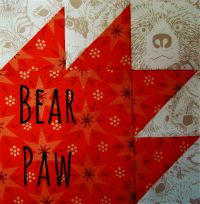 I was first inspired to make a Bear Paw quilt when
Lucy
and
Janine
joined forces and announced their relaxed, no-pressure
bear-paw-along
, waaaay back in May. I straight away wanted to play along but it wasn't til a few weeks later when (1) I found this gorgeous Paddington Bear fabric...
... and (2) a good
English
friend announced her pregnancy... that a plan was formed.
Here's a rough sketch of what I was thinking...
... and here's how it, kindly dubbed "Paddington's Paws" finished up, at roughly 40" x 40".
It is definitely bright and colourful. Just perfect for the little man born just a mere 2 weeks and 2 days ago.
Even though I've been a bit brave recently and have started experimenting a little more with new-to-me quilting techniques - I kept this one quick and simple with my usual go-to wavy lines.
Maybe not the best choice to truly showcase the Bear Paws blocks but I do quite like the crinkled effect it finished with.
A stripey binding completed the look.
I have discovered that I'm quite partial to a stripey binding. Unfortunately I originally had this fabric pegged for my wonky stars quilt - so fingers crossed I still have enough!
Lastly, here it is being modeled outside by my wonderful hubby. I just can't decide which is cuter. ;)
And, yes, that is a "truffle shuffle" tee. It's one of his faves and everyone seems to comment on it. I still have no idea what it's all about...
E.
Linking up with TGIFF over at
Quokka Quilts
.
Happily, this is also another finish from my Making Christmas list. I think I'm still on track! Watch out for an update tomorrow.