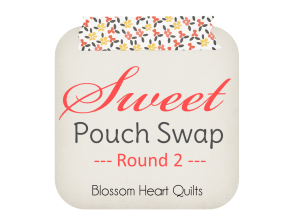 I may still be in the midst of
Stephanie
's Triple Zip Pouch Swap but that didn't stop me in the slightest from signing up to
Alyce
's Sweet Pouch Swap. Lucky I didn't hesitate, too, as sign ups closed after just 5 hours - as 100 people had already registered their interest. Talk about popular.
So, I am thankful I got in quickly and am able to take part. Yay!
This swap is a bit different for me as it is completely open and therefore allows me to converse with my partner to pinpoint her exact likes and dislikes. No guesswork needed here. I have been partnered with
Yvette
from Knoxville, TN who is actually Australian-born so might already have an idea of the sweet treats she'd like to receive (???).
Before that we get to that point, though, I've made another little mosaic to give Yvette an idea of my own loves.
1. Back - Linen Knitting Pouch - Private Swap Sent to Liz (liz h2), 2. Para as férias / for holidays, 3. Star Pouch Back, 4. Triple-Zip Pouch Swap, 5. Dresden Coin Purse made for verykerryberry, 6. PLPS2 ready, 7. All set for the #sweetpouchswap. Hope my partner likes it @sewdeliciousros, 8. Pretty Little Pouch Swap - front, 9. Buttons galore pouch, 10. Feedsack & Linen Pouch, 11. Mouthy Stitches pouch, front, 12. Not available, 13. Netbook cases, 14. Frame purse - 1st attempt, 15. Sunny blue bird pouch, 16. Another pouch
I hope that gives you some idea, Yvette, but feel free to shoot a million questions my way, if need be.
Until then... I'm heading off to take some pics of what I've been working on of late. I figure that I need to prove that my pre-occupation and lack of blogging has not meant a lack of sewing. ;)
See you all for WIP Wednesday tomorrow. :)
E.